On National Daughters Day I posted on Facebook a lovely picture of me and my two daughters. Of course, there were the expected shots by some of my friends, giving thanks that the two beautiful young women gained their looks from their mom. I'm thankful for that myself.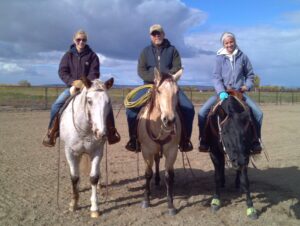 But also, there were several comments about how I'd better have my shotgun ready and similar such statements related to a father's obligation to protect his daughters. Those remarks brought back many great memories, and I thought I'd share some of them with you.
Having a Great Example to Follow
I was given the best example to follow as I watched my father protect my sisters as the boys began coming around. Dad never left any doubt in any of those boys that he was not one to be trifled with—and he wasn't. It was clear to all that you didn't park in his driveway, you never pulled up and honked, expecting his daughter to come out to you, and you wouldn't dare bring her home late. Every young man who knocked on our door learned to respect—if not fear—the man of the house.
Of course, I had the additional edge of having been a cop in South L.A.—that in and of itself elicits a measure of respect from teenage boys. That I was always armed—and a bit of a gun nut—didn't hurt, either.
The Critical Role of Fathers
But long before there were boys coming around, the girls had their daddy. There are always conversations about boys needing to be raised by men, the premise supported by staggering statistics showing that the overwhelming population of men in prison has not been raised by their fathers.
What is seldom discussed is the importance of father-daughter relationships. How girls who love their dads are more likely to have healthy, stable relationships later in life. How they are less likely to engage in dangerous behavior while going through those awkward teenage years. And how they are more likely to be successful adults in their professional and personal lives.
Daughters are the Best!
Having daughters is the most wonderful thing a man can experience, but only if that relationship is built on a solid foundation of love and respect. When they are adults, add in the friendship.
You gain those things by spending quality time together, whether it's their favorite activity or yours, or even an all-hands-on-deck overnight effort to save a newborn calf.
During their early years, we played house or school, we caught lizards, we swung on a tire hung from Papa's tree. I spent countless hours reading them their favorite books over and over again.
Whatever either of them wanted to do, I was game. They once painted a clown face on me and crowned me with a colorful wig.
When they were teenagers, it wasn't uncommon to catch me helping them straighten their hair during the hectic mornings before school.
In their formative years, my daughters and I spent countless hours riding horses, rodeoing, playing sports, fishing, hunting, and shooting.
Not only did I teach my girls at an early age how to shoot, but they were also involved in an NRA junior marksmanship program where they learned competitive shooting techniques and honed their skills.
First Dates
Once again, following my father's footsteps, each of my daughters was allowed to date once she turned sixteen, and their first dates were with me.
They learned how a gentleman should treat them: he should open their doors, pull out their chairs, and treat them with respect and kindness. Any man worth dating twice will give his undivided attention to them, not share it with his phone.
Big Dog, Little Dog
When the boys started coming around, the girls warned them against pulling up and honking. "My dad will kill you." The boys were to come to the door where they would be invited in and "lightly" interrogated while they waited for their dates.
One boy was six foot five. I asked, and he told me. I casually mentioned that I was six foot six. He didn't dare argue. Another boy, one who spent a lot of time in the gym, answered my question about how much he could bench press: "Two seventy-five, sir." I told him I could put up three hundred.
Of course, neither of those things was true.
I came home one evening to find several boys and girls at the house hanging out with one of my daughters. I zeroed in on one of them, a stout Hispanic with an easy smile. He wore a black cap (backward) with "Compton" embroidered across it in bold, gothic lettering. I said, "Dude, I've spent more time in Compton than you have." That was true.
After returning home from a day of branding cattle, I told another boy who had been hanging around that I had cut the nuts off a dozen calves that morning. His eyes popped open. I smiled and said, "And afterward, I sharpened my knife." That was also true, and the point seemed to have resonated with the young man.
Daughters Grow up Too Fast
Two wonderful men made the final cuts and lucked out to marry my daughters. When each asked for my blessings, I gave it to them with confidence. I also assured each of them that I would never be too old, too fat, too worn out, nor too broken down to protect my girls.
Not that either of my wonderful sons-in-law needed to hear that message, but it's just something a father has to say. It's something I had to say.
Today my girls are grown-ass women—to use their own terminology—but they are still my little girls. They will always be my baby girls!
One just dropped by as I was writing this, she and my grandson significantly brightening my day. The other dropped by two nights ago, and seldom does a week pass by that we don't get together. I have a wonderful relationship with each, and the time we spend together is invaluable, moments I will cherish every day that the good Lord gives me.
* * *

Thank you for reading my blog. I hope you will share it with your family and friends.