Cops and Writers Podcast
Patrick O'Donnell is a retired sergeant from Milwaukee who hosts a podcast for crime writers. I was privileged to appear on his show and discuss parts of my law enforcement career. Link
Morning Coffee with the Chief
I joined former LASD colleagues, Chief Patrick Jordan and Sergeant Danny Coons, in a discussion about "The Onion Field" case, PTSD, and other related topics. Here is the link.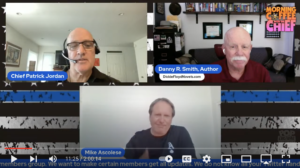 My latest podcast appearance with Chief Patrick Jordan and Deputy Mike Ascolese (ret.) discussing the Clint Eastwood classic, Magnum Force. Here is the link.
True Crime Daily Podcast with Ana Garcia

It has been my pleasure to be a regular guest host on True Crime Daily with the Emmy award-winning TV journalist and host, Ana Garcia.
Las Vegas Teens Beat Student to Death
School Teacher Gunned Down in Murder-for-Hire Plot
Playboy Model Kills Sugardaddy
Native American Murdered by Skinheads
Brutal Stabbing of a Cheerleader
Egypt Covington Murder Case and Florida Man Kills his Girlfriend
Cops and Cocktails Podcast
Cops and Cocktails is possibly the funnest podcast I've appeared on — maybe it was the whiskey. (:
Dr. Carlos Crime Network
Unsolved Murders Podcasts with Danny R. Smith
Every Wednesday Dr. Carlos and I review and discuss a new case, choosing from an endless list of unsolved murders throughout the country.
Follow The Dr. Carlos Crime Network and tune in each weekday for new content.
If you miss any of my episodes, Unsolved Murders with Danny R. Smith, you can watch them anytime by clicking on the shows listed below:
Episode 1: The Unsolved Murder of Pauline Robbin Burgette
Episode 2: The Unsolved Murder of Lynn Priestly
Episode 3: The Long Island Serial Killer Case
Episode 4: The Salsa Queen Murder
Episode 5: The murder of nine-year-old Amber Hagerman, for whom AMBER Alert was named.
Episode 6: Susquehanna Township, PA Detective Scott Meier discusses five unsolved murder cases.
Episode 7: The Musalo Family Murder, Montreaux, Nevada.
Episode 8: The Teardrop Rapist
Episode 9: The Kristen Smart Murder Case
Episode 10: Jane Doe 51, with special guest Sgt. Frederick Reynolds.
* * *
Don't forget to check out my blog and share it with your friends: