In 1988 the Los Angeles County Sheriff's Department began the painful transition from the Smith & Wesson .38 caliber revolver, to the Beretta 9mm pistol as the primary duty weapon of its deputies. It would be the death of the wheel gun.
The Transition
With nearly 10,000 sworn deputies, nothing happens overnight. But over the next couple of years, the Firearms Training staff would run every single deputy on the department through training and qualification courses, and eventually, we would each be equipped with the Beretta 92F—whether we wanted to be or not.
The feelings were split among the troops: some couldn't wait to carry an autoloader, others of us loved our wheel guns. Others yet would have loved to go with an autoloader, but something other than the Beretta 92F.
My former training officer, Mike Griffin, was no fan of this Italian made weapon, referring to it as a Fiat with bullets.
Not for Me
Personally, I never understood those who were excited about the transformation. Was it because of the high-capacity magazines? The Beretta 92F has a standard 15-round magazine, and you carried the gun with one round in the chamber. So you had 16 rounds of ammunition before having to load a new magazine, which was a simpler process than using a speed loader to reload a revolver. We were each issued two extra magazines, so at the very least you had 46 rounds of ammunition readily available.
The quickest way to reload a wheel gun is by using speed loaders. Most deputies would carry four of them on their belt, giving them a total of 30 rounds counting the six rounds loaded in the cylinder.
Clearly, the Beretta boasted an advantage with round capacity and the ease of reloading.
But was it that, or could some of those who advocated for the change have only had the coolness factor in mind?
It was rumored back then that it was the custody deputies—who, in their current assignments, didn't carry firearms on duty—who voted heavily for the 92F to be our newest weapon. Damn kids.
As I recall, "we" even traded one of our holidays for the exchange, meaning our union negotiated away eight hours of pay—FOREVER—to get what the department would have ended up giving us regardless, sooner or later.
The traditional the Wheel Gun
I loved my revolver and I didn't want to part with carrying it. I never carried the department-issued Model 15 on patrol; rather, I carried my personally owned Smith & Wesson Model 14, a blue-steel six-inch revolver that was popular with LAPD for a long time. I wore a swivel Hoyt breakfront holster, and it felt as good on my side as my highly polished Corcoran jump boots did on my feet, and as natural as the Gonzo 245 sap riding on the back of my leg.
If you've read my blog The Gun Grip Fiasco, you know how fervently I fought this transition into the modern world of law enforcement weaponry. I hid under my desk to avoid being sent to training, and as it turned out, I was one of the very last deputies to go through the mandatory marksman makeover.
Definitely NOT Tacticool
From the beginning, I could never shoot that thing. It was a horrible gun—in my humble opinion—big, bulky, clumsy, and ugly. Not sleek and sexy like a Browning High Power, nor tacticool like a Glock, or just plain badass like the ultimate man's gun, a Colt .45 auto. And definitely not the old wheel gun.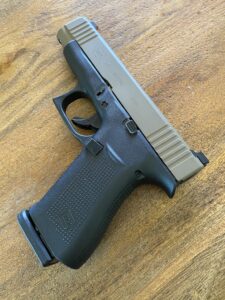 No, that dumb heavy hunk of scrap metal called the Beretta was the dreadful cousin that no self-respecting H&K or Sig Sauer would dare mention during Thanksgiving dinner
Thankfully, it wasn't long after being forced to carry the B-word gun that I promoted to the detective bureau. There, we were allowed to choose from a variety of other autoloaders, including the H&K P7, my personal favorite at the time.
As if the Beretta wasn't bad enough for uniformed patrol where you wore a heavy-duty gun belt, trying to carry one while wearing business attire was impossible! Dress belts aren't designed to hold the weight of an anchor-sized pistol high on your hip, but the H&K sat there snugly and comfortably.
No Love Lost
When I retired, I had the option to buy the Beretta I had been issued. It was that or return it to my old friends at Logistics. It was a smooth transaction—unlike the previously referenced Gun Grip Fiasco—and I was happy to walk away leaving that chunk of steel behind.
* * *
Thank you for reading my blog. I hope you will share it with your family and friends.