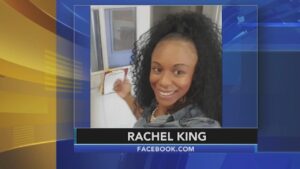 On the morning of April 11, 2023, Rachel King, a 35-year-old Philadelphia resident and elementary school teacher, was gunned down while waiting in her car at a Dunkin Donuts drive-thru.
Her 11-year-old son was in the back seat.
The Alleged Killer
Zakkee Alhakim is thought to have been hired by Julie Jean to commit the murder. Jean had had an affair with King's boyfriend the previous year, but the fling was terminated, and King and her boyfriend remained together.
In the months leading up to the murder, Julie Jean harassed both King and her boyfriend, apparently incensed that the two of them remained together and that she was out of the picture. The harassment continued to the point where the two sought a protection order against Jean.
Julie Jean is believed to have met Zakkee Alhakim through the father of her children, who is Alhakim's cousin. There is evidence that the two communicated on multiple occasions in the weeks leading up to Rachel's murder, including photographs found on Alhakim's cell phone that were apparently taken of Jean's phone, depicting images of the victim. There was also a Google map image downloaded on his phone that showed Rachel's residence and the route she would use to get to and from it.
On February 25, 2023, Alhakim shared his real-time location with Jean so that the two could meet up. Thirty minutes later, a photograph of the victim, displayed on another cell phone, was taken by his phone. In other words, Jean held her phone up, showing Alhakim a photograph of the intended victim, and he took a picture of it for reference.
The Suspect Vehicle
On March 30, 2023, Julie Jean purchased a used car from a dealership in Philadelphia, a silver Mercury Sable. Alhakim was with her.
On the morning of the murder, surveillance footage and witness testimony showed that the victim was followed by a silver Mercury Sable from her apartment to the Dunkin Donuts, where she was murdered. Additional evidence has placed Alhakim and the Sable at the victim's residence on several occasions leading up to the day of the murder.
The Other Murder
Four days before King was killed, James "Chris" Farrell, Jr., was shot to death in Philadelphia. The suspect fled in a silver Mercury Sable.
There is no connection between Chris Farrell and Rachel King other than that they were killed by the same weapon—and presumably by the same man, Zakkee Alhakim. Expended cartridge casings from the two scenes were determined to have been fired from the same weapon.
Although the gun used in these two crimes has not been recovered, a photograph of a "ghost gun" was additionally discovered on Alhakim's cell phone. Firearms evidence experts have stated that the depicted weapon is consistent with the type of gun used in the two murders.
The Arrest of Alhakim
On the same day of Rachel King's murder, Philadelphia cops spotted the Mercury Sable, which they were on the lookout for since the Farrell killing four days earlier. They attempted to stop the driver, Alhakim, who fled. A pursuit ensued, and Alhakim was taken into custody after crashing his car.
(In these days of "defunding the police" and anti-cop sentiment, law enforcement officers are still placing themselves in harm's way for a seemingly unappreciative citizenry—and they do so at great physical, emotional, legal, and financial risk.)
True Crime Daily
It was my honor to appear on True Crime Daily yesterday with host Ana Garcia where we discussed this case and one other—the tragic killing of a six-year-old girl—in depth. I urge you to watch it here.
One thing we didn't discuss on the podcast was the idea of this "ghost gun." The term is creepy and a little bit scary, much like "assault rifle," which is probably why the term has been so widely embraced.
Ghost Guns
A ghost gun is a firearm built at home by a private citizen as opposed to being produced by a gun manufacturer. There are no federal laws prohibiting a person from building their own gun, so long as the person doing so can legally possess a firearm. In recent years, it has become more of an interest for many gun enthusiasts, perhaps as a matter of convenience or maybe because Americans fear that their government will eventually come for their registered guns.
To build a gun, a person can buy a receiver that has not been completely manufactured and is not legally considered a gun, therefore there is no requirement for registration or serialization of these products. The receivers are designed so that any person with some familiarity with the use of common tools, such as drills and files, can finish the production of the receiver. Then, with parts easily purchased—barrel, trigger unit, springs, etc.—from any number of manufacturers, a gun with no serial number nor traceable origin is built. Hence, a ghost gun.
These guns are not legally traded and sold, but it seems that many have made it into the wrong hands—the hands of killers and other assorted criminals—just as do legally purchased firearms. In Philadelphia, 571 ghost guns were recovered by law enforcement in 2021. In Los Angeles that same year, the numbers were higher: 24% of the 8,121 guns seized by police were untraceable, homemade guns.
Justice for Rachel King
Although the gun used in the two Philadelphia murders has not been recovered, Zakkee Steven Alhakim will face first-degree murder charges for the killings of Chris Farrell and Rachel King. Julie Jean has been charged in King's killing as well.
But nothing will change that an 11-year-old boy witnessed his mother's murder or that a family, and a community, lost a beautiful soul to evil personified.
May God rest her soul and bring comfort to her loved ones.
* * *
Additional Links for the True Crime Daily Podcast episode:
* * *
Thank you for reading my blog. I hope you will share it with your family and friends.