George Ramos is a Firestone legend. He wasn't a gunslinger nor a valiant leader of men, he didn't hook and book and make the streets safe for women and orphans—at least not directly. At least not usually. He was our station mechanic, one who would respond to assistance requests armed with a crescent wrench. There were no others like him. Anywhere. Ever.
Firestone Station
George refers to the fourteen years he spent at Firestone as the best years of his life. Some might argue those were Firestone's best years also, me among them.
South Los Angeles was his home. George was raised on 51st Street between Figueroa and Hoover, just two miles outside of Firestone's jurisdiction.
As a kid, he would ride his bike to 53rd and Figueroa, where a man named Lujie Lesovski built race cars for the Indy 500. Young George would stand outside and drool over the cars and the building process. He attended Catholic school, but by the time he finished 11th grade he was bored. He didn't return for his senior year. A man named Lawrence Blount, the father of one of George's closest friends, taught him mechanics, and also taught him to be a man. His own father necessarily worked two jobs and had little time for George during his formative years.
After high school, George began working at gas stations and garages, brake and muffler shops, often working two jobs as his father had. Eventually, he was hired by Los Angeles County as a garage attendant, servicing vehicles. (He was literally hired by the actor "Andy" from the then-famous Amos & Andy TV series. The acting was a part-time job for the famous civil servant.) Eventually, George moved up through the ranks to journeyman mechanic and was assigned to Firestone station.
My First Experience with George Ramos
I was a young deputy just off training the first time George got me out of a pinch. Tony Baudino and I had been in a pursuit that took us into the Nickerson Gardens, an infamously violent housing project in South Los Angeles. The suspect vehicle crashed, and the occupants fled in several directions through the courtyards and between buildings. I drove over a curb and across wet grass until we could go no farther in the car and the suspect continued running between buildings. I slammed on the brakes, but the car found no purchase on the slick turf, and we crashed into a clothesline pole. We captured our suspect, and the other deputies caught theirs, but the front end of our assigned vehicle had been crunched in the process.
It would have been my first "preventable accident," a blemish on one's record, had it not been for George. Tony said, "That's nothing to worry about. George will take care of it for us." We parked along the back wall of the station and left a note for George. By the time we returned from our two days off, our assigned vehicle was as good as new, and there was no record of the accident or the repairs.
Taking Care of Deputies
I came to learn that this wasn't the first nor the last time George took care of vehicle repairs under the table. It made no sense to him to send a radio car up to the motor pool where it would be out of service for months if he could fix it himself. George would take a fender or a door off of one of the "totaled" vehicles destined for salvage, and make the repairs himself. He was undeterred by the often-cumbersome county processes. We needed our cars, and George made sure they stayed up and running in tip-top shape.
George would also help deputies and professional staff with their personal vehicles when necessary and as time allowed. He helped me replace a heater core in my Corvette that would've cost me a grand to have done at a shop.
And fixing cars was only part of George's contribution to Firestone station.
Painting the Station
When the station needed painting, Facilities Maintenance gave an estimate for the job. It was outrageous, and it would have been a significant hit to our station's limited budget. George got wind of the proposal and scoffed at it, saying he'd take care of it himself. He and Mr. Hooks, his usual partner in crime, liberated a pallet of gray paint from the loading dock at Men's Central Jail, and then George requested an inmate work crew to the station for exterior maintenance.
A month after the job was done, a supervisor from Facilities Maintenance came by the station and asked how the station had been painted. The supervisor was told by one of our administrators that we did it ourselves. The maintenance man argued that we couldn't just paint the station without going through the proper channels. A certain lieutenant shrugged and said, "Well, we can't unpaint it," and that was that.
No Parking, Per George
George had been assigned to Firestone for about a year when he became aware of several fender-benders and additional near misses occurring outside of the rear driveway where radio cars came and went with frequency and oftentimes urgency. He realized that the problem was the curbside parking on Compton Avenue, north of the driveway. The numerous cars that routinely lined the street in that section created a hazardous blind spot for radio cars departing the station.
George gathered some station trustees (inmates who are given jobs while serving time), a ladder, and a crescent wrench, and late one night this misfit crew of midnight maintenance workers swapped out the "One Hour Parking" signs along that stretch of the road with "No Parking at Any Time" signs that had been appropriated from a nearby county park. Ramos then went to a friend at another county department and "borrowed" a few gallons of red paint, and the trustees painted the curb to match the newly acquired signs. As far as any of us can remember, there was never another accident at the back gate of Firestone station.
Parking Control
Fleet Operations received new jeeps to be used by station parking enforcement officers. George and his assistant arrived to pick up one that had been designated for Firestone, but they saw that it was a standard left-side drive vehicle, not ideal for parking enforcement. There were other new jeeps that did have the right-side drive, and all of these new vehicles had keys in their ignitions. George took two, the one he had been assigned, and one with the steering wheel on the right. He and his assistant (accomplice?) drove both jeeps to the paint department and had the vehicle shop numbers repainted and switched. He swapped the license plates to match the shop numbers and returned to the station with the more appropriate vehicle, though one with questionable registration.
A Dog Named Stoner
Finally, there was a station dog named Stoner who was kidnapped as a prank by LAPD 77th Street officers, and later returned dyed pink with a poodle cut. A few weeks later, George saw an LAPD 77th Street black and white Plymouth parked in the station's front lot, and he decided to exact some revenge for Stoner.
George crawled under the car with a brake adjusting tool and tightened the rear brakes. He knew that the drum brakes on that vehicle were very ineffective when backing, used primarily for stopping forward motion. The officers easily backed onto the always-busy Nadeau Street, but when they tried to drive forward, their brakes locked and left them stranded in the middle of the road, blocking traffic.
Shade Tree Mechanic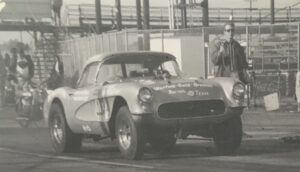 George has always been a fan of the speedways, and he himself raced on some of the drag strips he frequented as a spectator. But it was a hobby that cost rather than made him money, so he began working on friends' and neighbors' cars during his time off instead. Soon he was able to buy his first home in Pico Rivera.
As of this writing, George has been retired for seventeen years.
What does he do? He builds engines, of course—performance motors for hotrods and boats. To date, he has built 115 of them, if anyone (other than George) is keeping track.
My hope is that the comment section below is filled with other great George Ramos tales.
* * *
Thank you for reading my blog. I hope you will share it with your family and friends.