In the morning, the day before Father's Day, I stood beneath a crystal blue Idaho sky to say goodbye to a family friend.
His name was Bill, and he had lived a full life of eighty-eight years. There were about fifty family and friends assembled on a well-tended lawn peppered with granite markers of various shapes and sizes, some protruding from the ground and others flush with the earth, if not hidden by the summer grass.
As we listened to a very old tune that most people seemed to enjoy—one man sang along with a smile, maybe reliving the roaring twenties—my gaze wandered the grounds, and I speculated about those more grandiose headstones and markers: were they symbols of importance? Were the people they memorialized wealthier than others, or maybe just more pretentious?
A Modest Man
One of the graveside speakers said that in recent talks with Bill, he had asked if he could pray about anything for him. Bill reportedly said, "More money." Knowing Bill, he was probably only thinking about the financial burden he would leave his family. He had lived a modest life and worked hard for every dollar that had passed through his hands. I don't know their situation, but I imagine there were substantial expenses as Bill neared the end of his life.
But the comment made me ponder the tombstones even more. I've asked to be cremated and that my ashes be placed in a box and kept alongside those of our beloved pets. I have no desire to be planted somewhere among rows of strangers, some of whom were apparently more important than others.
A Celebration of Life
Save the expenses of burial and throw me a party instead. Serve top-shelf scotch and prime rib. Have my good friend Buddy DeVore play his guitar and sing a couple of sad cowboy songs, and then kick it up a few notches for old times' sake.
I looked at the nearest stone and considered it as another song began crackling from a small speaker. It was something with a little more western twang than the first. The marker at my feet was low and modest, one that barely rose above the blades of manicured grass that surrounded it. There were few words engraved on it, "World War II Veteran" among them. He had died in 1971 at the age of forty-nine. I wondered how often his memorial was visited by loved ones, and whom he had left behind. He had served his country during a time of war, so I never questioned what legacy he might have left them. I silently thanked him for his service and then we bowed our heads in prayer, the brief memorial coming to an end.
Leaving a Legacy
A friend talked about how Bill had built houses throughout his life, one of the many ways he had supported his family. Later in life, he had used his skills to build birdhouses from scrap wood. He had built scores of them over the years, maybe hundreds, and he had given them to family, friends, and neighbors. My wife and I have one and so do my parents, who were close friends of Bill and his wife. Birdhouses were never my thing, so over the years I hadn't paid much attention to the one he gifted us, though it remained in our yard. Now it means something more to me.
Grandpa Hartley
The only grandpa I ever knew died when I was seven, and I have only a few of his belongings, all of which I cherish. There are a couple of tools he used in his craft as a finish carpenter, a handsaw and plane among them. Sometimes, when I am working on a project, I wrap my hand around the handle of his saw and buzz through boards the old-fashioned way, though my electric Skilsaw sits nearby.
The plane sits on a shelf in my living room near one of the few photographs I have of him. I have his name, Roy, as my middle name, and I have childhood memories of wonderful times with him. I still remember his wide grin and hearty laugh, and I recall the afternoon he made my cousin and me fight three bullies who had chased us home. I also remember when our family gathered at his home because the end was near, and I'll never forget the commotion that awoke us kids late at night when that time did come. His was the first of far too many funerals I would attend in my life.
Today I sleep under a handmade quilt, a labor of love from my mother. I thank God that she and my dad are still alive, healthy, and happily married. Their relationship alone is a legacy they will leave behind.
A Legacy of My Own
As for me, I don't build or make anything pretty. But I have amassed hundreds of thousands of words telling wild stories—some fiction, some not—many of which I might never have told my family, and all of which are more a part of me than the possessions that will otherwise be parceled out.
* * *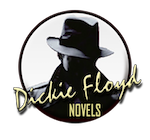 A GOOD BUNCH OF MEN
DOOR TO A DARK ROOM
ECHO KILLERS
THE COLOR DEAD