The lines have been drawn and it's time to pick a side. Either you stand for law and order, or you are advocating for anarchy, chaos, and the destruction of civil society.
Two L.A. County Deputies Ambushed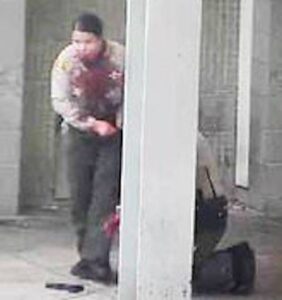 Before I continue, you should know that I am writing this just hours after two Los Angeles County Sheriff's deputies were ambushed on the evening of September 12, 2020.
Each of them shot multiple times while seated in their patrol vehicle, providing security at a Metro rail station in Compton. Their blood-soaked tan and green uniforms and gold stars are the same that I wore. Their black and white patrol car—riddled with bullets—bears the same identifiers as those that I drove. It happened in an area where I spent much time throughout my career, and the news of it hit me hard.
It always does.
Black Lives Matter
Then, while both of these heroes were fighting for their lives at a local hospital, miscreants gathered outside, blocked the entrance to the emergency room, and at one point tried to force their way inside the hospital. All the while chanting that they hoped that the gunshot deputies would die.
This is what Black Lives Matter is all about: A war on police.
In the demented world of those who are destroying our nation's cities under the flag of Black Lives Matter, and who are perpetuating the lie that systemic racism exists and that cops are hunting black people, they somehow believe that two cops risking their lives to make it safer for Compton residents to commute to and from their city, somehow deserve to die.
Law and order is the backbone of any civil society, yet for some reason, a sizeable portion of this country is choosing to stand in support of the radical Marxist movement that is Black Lives Matter. Professional sports, many educators, various corporations, and—let's just be honest—most Democrats, are in support of BLM and their associated terrorist activities.
Is it naivety, or pure evil, that motivates so many organizations and individuals to support Black Lives Matter? I hope that for many, it is pure ignorance born of the desire to be seen as virtuous, everyone wanting to be part of the cool kids' crowd.
Because after all, who would argue with the statement that black lives matter? Of course black lives matter—all lives matter! But the statement and the organization are two very different things.
Statistics Don't Lie
In fact, if you examine the actions and motives of BLM, it is clear that "black lives" are not at all the concern of its members. If their motive was truly to improve the lives of blacks, why not address the real threats they face:
According to the Bureau of Justice Statistics, homicide is the leading cause of death for black males and females ages 15-24.
From 1980-2008, blacks accounted for almost half of the nation's homicide victims, and more than half of the offenders in murder cases. Black people represent just 13% of the population.
In the United States, the abortion rate of black women is nearly five times that of whites, according to the Guttmacher Institute, while accounting for just 13.4% of women in America, per the U.S. Census Bureau.
The out-of-wedlock birth rate for blacks is an astounding 69% according to the Center for Equal Opportunity. Every clear-thinking American knows what that phenomenon does to a community.
And where is BLM? They are receiving millions in donations; how much are they spending to combat these tragic trends in the black community? Or is it all going to fund the elections of Democrats?
Defunding the Police
Also, this move to defund the police would be disastrous to many people of color who live in high crime neighborhoods. Don't believe the lies—it is only the radicals who want the cops gone. The vast majority of residents in POC communities appreciate that the cops are there and support what they are trying to accomplish.
How do I know? Because I spent the bulk of my career in South Los Angeles.
Does Black Lives Matter really care about Black Lives?
I'm not alone in arguing that they don't. BLM is nothing more than a radical political movement designed to destroy America from within and replace it with a Marxist-communist government. They are domestic terrorists, funded, in part, by the most evil man in America, George Soros.
And they have declared war on the police.
Unfortunately, the Democrats of today largely support their radical agenda. I'm not going to waste my time or that of my readers substantiating that claim. If you can't figure it out for yourself, then you are woefully ignorant or willfully blind to the facts.
What Might be Coming
Many of us see and understand what is happening in the various (Democrat-controlled) cities in our country, and we know that the day is coming when good people are going to be forced to fight for our lives.
I can assure you that many of us are ready, more so than the other side could ever imagine but may eventually discover. They've awakened a sleeping giant, those of us who are capable, equipped, and experienced in dealing with violent predators.
We will rise up if need be—make no mistake about that—though we would prefer to live our lives in peace.
Educate Yourselves
For those of you who are willfully ignorant, who allow your children to engage in virtue signaling with their BLM shirts, buttons, and banners, or who turn a blind eye or even encourage them to be among those destroying this nation, you had better wake up.
Because if you enjoy your comfortable life, if you have anything at all to lose, if you are an otherwise law-abiding citizen who hopes that your children and grandchildren will live in peace, you are choosing the wrong side if you're siding with BLM.
Turn your back on our police, and you will soon experience third world chaos and violence in your neighborhoods, on your streets. If not stopped, these radicals will destroy our country.
And don't tell me you support the police and Black Lives Matter; that is a lie. BLM has openly advocated for the death of all cops, and their members are publicly cheering when our law enforcement officers are ambushed and gunned down.
Think about that.
* * *

Thank you for reading my blog. I hope you will share it with your family and friends.
Be part of the conversation; join my Facebook group, Dickie Floyd Novels VIP.