If you happened to be in the horseshoe-shaped cowboy town of New Plymouth, Idaho last Saturday night, you might have thought the rodeo had come early this year.
Dusty pickup trucks, cars, and a sea of bobbing cowboy hats filled the fairgrounds parking lot, as family and friends gathered to pay their respects to a local cowboy legend. One of those hats had come all the way from Oklahoma, and even a former Idaho governor was in attendance.
Cowboy Lou Janssen
Lou had cut a wide swath and left his mark on the community. A cowboy by trade, he and his wife, Karen, had worked for the Simplot Cattle Company for 35 years and consulted for another 11 once they "retired."
By consulting, I mean they regularly saddled their horses and headed to the high country to help bring the cows home in the fall. In the spring, you could find them at various brandings, both Simplot's and those of friends and neighbors.
A Family of Cowboys
I had the privilege of meeting Lou through my good friend, Oliver, who married Lou's daughter, Pam.
Oliver is who taught me to ride and rope, and it was he who first provided me with cowboying opportunities.
I spent many long days working cattle up in Donnelly during the summer months, and many times, Lou and Karen would be along. I would marvel at the skills and stamina this pair of "retired" cowboys had.
The Memorial Service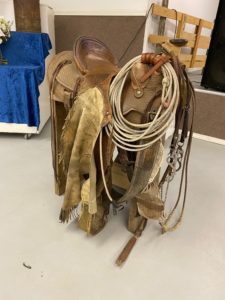 Lou's buckaroo saddle stood alone at the front of the room signifying his presence. His well-worn and unadorned leather chaps lay draped over its seat, his bridle and reins hung from its cowhide-wrapped saddlehorn. All of it the trappings of a humble, working cowboy.
At the back of the room, two ladies tended bar before and after the short service.
"Lou is finally trading sound horses," said John Hepton, a regionally renowned cowman himself.
It was said in jest, an insinuation that some of the hundreds of horses Lou had traded over the years might not have been as healthy as they were billed to be.
Lou's grandson, Louie, stood and told an amusing tale himself, one about donut theft and the blue heeler who took the brunt of the joke.
Another young man told how, when he was a kid, Lou would have him ride his sale horses to demonstrate to potential buyers that they were safe for kids. Lou would also remind the young man of the horse's stated age, should he be asked.
Lou was a true character who left a real legacy that won't be forgotten anytime soon.
A Cowboy Reception
After the service, drinks flowed and we filled ourselves from an endless supply of potluck dishes, and of course, good homegrown beef. We visited with old friends, told stories, and remembered the best of times we'd had with Lou.
As I visited with many of Lou's family members and closest friends, I couldn't help but share my thoughts about life, and the end of it.
Of course, my perspective comes from having seen countless cases of premature—often violent—death, and there is a stark contrast between those mourners and these.
"He got a fair deal," I said.
The Cycle of Life
If you make it to eighty and have only recently hung up your spurs, and if a crowd of people gathers on a Saturday night to pay their respects, you've lived a meaningful life and left behind a legacy that your loved ones will cherish.
That's as good a deal as anyone could ask for, and one that many of us would sign on for.
The next day, my daughter asked how Lou's memorial went, and I told her we had a great time. It had sounded better in my head. But it was true, we really had. And the fact that it had been a wonderful celebration of a great man's life, really had me thinking.
Make Mine a Party Too
If I can make it to eighty before the good Lord calls me home, I hope my friends will gather to drink whiskey and tell stories and have some hearty laughs.
Hell, put on a jackpot roping for all I care.
But I'm not trusting you people to pull this off on your own, so I'm hedging my bet.
That's right, I'm pulling the clown card, and I'm putting it in writing now so that my wish will be remembered and hopefully honored.
An Old Pard and a Memorial to Remember
Daryl "Table Legs" Knight (I just call him "Deedub"), a former rodeo clown/bullfighter, has been one of my best friends for nearly forty years, and he has kept me and thousands of others entertained in and out of the arena.
Now I want to see how he does under some real pressure, so here it is:
Deedub, if you outlive me (and I truly hope you do), it is my wish that you attend my memorial service in your rodeo clown outfit, the whole shebang: baggies and suspenders, colorful leggings and striped socks, and especially that crusty old, ill-shaped cowboy hat of yours.
And don't forget the painted clown face.
No Regrets for this Cowboy
But paint that face with a big ol' cowboy grin just one last time for your old pard. Because the truth of it is, I've been blessed with an enormously rich life, full of family and friends and wild adventures, and I'll continue living it to the fullest for as long as I am able.
So don't mourn, celebrate. There will be no regrets on my end.
Unless y'all mess up the party.
* * *
Thank you for reading my blog. I hope you will share it with your family and friends.