We've just passed the two-year anniversary of The Murder Memo.
Origin of the Name
A murder memo is a document used at the Los Angeles County Sheriff's Homicide Bureau. It contains the particulars of a case: identification of the victim, the date, time, and location of occurrence, and suspect information if there is any. The team lieutenant prepares a murder memo for each homicide case to be used for administrative purposes.
Purpose of the Blog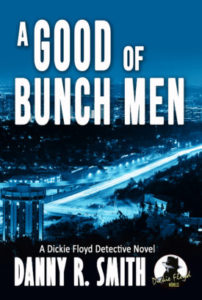 I created The Murder Memo and began posting blogs on it shortly after publishing my first novel, A GOOD BUNCH OF MEN. I had learned that a blog is a great way for an author to build his/her audience, and to stay in touch with readers.
The first blog I wrote and posted was Dance with a Demon. It is a true story about an interview with a woman who partook in a gruesome murder involving skinheads and a Native American. The woman is now on death row, and the story is one that I plan to write as my first true crime book.
At first, I posted a new blog every week. But that pace was difficult to maintain, since, at the same time, I was writing DOOR TO A DARK ROOM. I was also still working hard at my second career as a private investigator.
In the second year, I began posting a new blog every other week. But, in my defense, I also wrote and published three additional books in the series: ECHO KILLERS, THE COLOR DEAD, and DEATH AFTER DISHONOR.
Five books and 70 blogs in two years.
In the Beginning
At first, it was my family and a dozen friends (maybe) reading The Murder Memo. Before long, however, others were finding me and signing up for my newsletter. The benchmarks came often: 100. 200. 500. Soon it was a thousand, then two, and eventually, three thousand subscribers had signed up to read my writing.
My most-read blog to date is The Unsolved Murder of Angie Dodge, which has had more than 17,000 views. The case had drawn international interest, and I was hired by a production company to investigate it as a cold case while they produced a documentary. The show is called The Wrong Man and it airs on STARZ quite regularly. Every time it does, I see a significant spike in website traffic, the result of people googling "Angie Dodge" and variations thereof.
Other Blog Posts
I remain surprised that the least-read blog is the one about my professional encounter with Muhammad Ali. It was the seventh blog I ever posted, and it has only had, to date, 123 views. If you have a minute, check it out; you might enjoy it: Facing Off with the Champ.
One that blows me away with the attention it has garnered was written as a parody of the never-ending self-help blogs. 8 Ways to Get Away with Murder has had over 4,000 views. Many of the search terms that have been used to find it have included variations of "How to get away with murder."
Some of those readers probably aren't the perfect fit for my audience, but I am glad they stopped by. Everyone is welcome at The Murder Memo.
One of my favorite blogs is called The Flying Burglar. It is the true story about an arrest my training officer and I made when I was newly assigned to patrol at Firestone Station. There are many other "war stories" of those days when I worked patrol in one of the most violent communities in America, including: Thanksgiving Day Melee, A Shooting on Elm Street, Leota Street Shooting, and Crack, Gangs, Violence, to name a few.
What's Next?
Every time I think I'll run out of material, I come up with another story to tell. While writing this, I am reminded of a double homicide I investigated in the City of Carson that took me all over the country before it was solved.
I also want to write a blog about writing. I'll probably write another cowboy blog in the near future, just to take a break from the cop stuff, and I have an idea about it brewing as I type this.
Watch for those stories and others, coming soon to The Murder Memo!
What it's Really All About
Blogging is more than branding and marketing for me. It is connecting with my readers on a more intimate level. It is sharing parts of myself with those who enjoy my novels. It is inviting you, my cherished readers, to engage, to respond, to allow me to get to know you. Think of it as a campfire, and all of you are welcome to pull up a log and torch a marshmallow with me.
* * *
Thank you for reading my blog. I hope you will share it with your family and friends.